Flash Tetris clone - Tetrevolution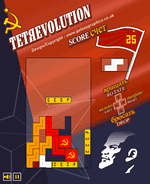 There are many versions of Tetris, the popular arcade puzzle game. This one graphically expands on the game's Russian origins, using the design and style of Communist posters and propaganda. The gameplay is the same classic Tetris game underneath : move and rotate the falling blocks using the arrow keys to complete full rows for points.
This flash Tetris game is easily branded for your website or viral marketing campaign. Logos or images can even be placed upon the falling bricks, such as the hammer and sickle on the red square block in the example game, or the long yellow CCCP brick. This example branding also uses two languages: everything that appears in English also appears in Russian.
Another version of Tetris, Caketris, is also available.
Please contact us for more information on flash Tetris.

Further Information :-
Flash Game Licensing FAQ - your questions answered