Japanese number plate making online tool
This simple Flash Web Application was developed to enable the user to generate unique Japanese Number plate graphics. The intended purpose was to make number plate grahics suitable for 1/24 scale model kits and Radio Control RC cars, however there are many other uses such as show plates, track day plates etc for real cars. The number plate maker application also caters for both normal cars (green on white) and the Kei cars (grey on yellow) as plate types. The JDM platemaker also uses PHP to allow you to download your chosen plate in jpg format.
If you're interested in a copy of the Japanese number plate maker for your website, or full sized EPS vector artwork of any combination JDM number plate, please contact us.
Please note the area section does not contain an full list of Japanese number plate prefectures, but does include many of the most populated and/or well known areas, including Tokyo, Osaka, Okinawa, Okayama, Hiroshima, Kyoto, Akita, Gunma, Mie, Nagasaki, Yokohama and Sapporo. In addition, the Hiragana section and engine size number section (350,380 etc) have only a limited number of selections from the full range on real Japanese number plates. However, this number plate generator is capable of generating well over 17 million different plates.
Example plates
The photographs below show Japanese style vanity plates manufactured with EPS format plate artwork printed and mounted in polycarbonate, then photographed on a UK registered Mitsubishi Galant.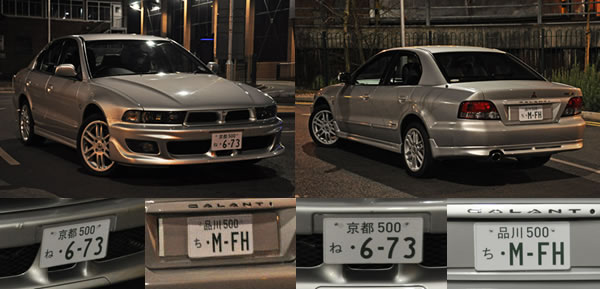 Resources
http://en.wikipedia.org/wiki/Vehicle_registration_plates_of_Japan (Further JDM plate information)
http://www.japanisch4you.de/ (Learning Japanese, for Germans)