Forces character chat room in Flash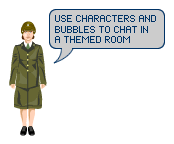 This NAFFI Bar themed chat room uses Flash to present an alternative to the more traditional text based chat room. The users can choose their own character and then move around the bar room, chatting to others. The user's chat appears both in a bubble next to the character and also in a transcript window.
This project for forcesreunited.org.uk uses both forces themed characters (Army, Navy and Air force) and civilian ones (some examples are shown below), giving all the users a choice of how they appear in the room.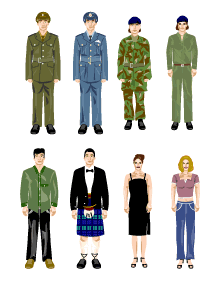 The Bar room also contains animated background items such as a fruit machine and a Wurlitzer jukebox.
If you are looking at having a chat room on your website, then this style of Flash chat room is a novel and different approach. The characters and room can be themed for anything you want.. realistic looking people, cartoon characters, a bar, a club, any sort of environment you can think of can be created to suit your website's requirements.
Contact us for more information on how we can design a flash chat room for your customers.