Basketball Keepie-up Flash game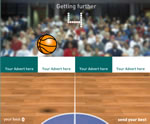 The first game to be specifically built for the Galaxy Arcade website; the keepie-up game is themed as basketball as there are several football keepie-up versions already around. The game has a simple yet addictive premise: keep clicking the ball to keep it in the air, and don't drop it.
See how many you can do!
If basketball is not your sport, the game is easily remade into football keepie-up, tennis keepie-up, cricket(!) keepie up or whatever ball / sport type you desire.
Games such as Keepie-up can help draw more traffic to your website and keep your visitors entertained .Use the power of viral emails and word-of-mouth to gain more traffic for your site. People pass these games on and on and on..




Further Information :-
Flash Game Licensing FAQ - your questions answered