Fat Santa - A brandable Flash Christmas game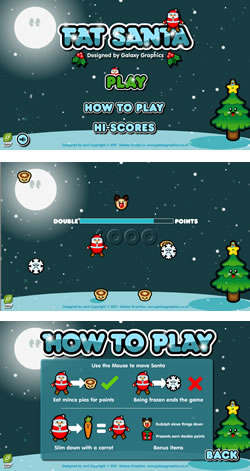 Fat Santa is a game where you move your Santa around with the mouse trying to eat as many mince pies as possible and avoiding the snowflakes. Hitting a snowflake freezes Santa and ends the game. Eating a pie scores points but also makes Santa fatter and fatter, making the game more tricky as you try to avoid the snowflakes with a larger Santa.
Aiding Santa in his eating quest are carrots, which slim Santa, Reindeers, which slow the game down for 5 seconds making it easier, and wrapped presents which double the points for any pie.
The game could be reskinned in an endless number of ways however, and catching objects is ideal for projects where a perhaps a shooting game may be inappropriate. With cute eye catching graphics, the game also has a lot of visual appeal.
Fat Santa also incorporates an in-game high score display.
If you are interested in licensing this Fat Santa game for your own site, or a custom rebranded variation of it, please contact us for more information.

Remember, any aspect of the game's graphics or gameplay can be customised to complement your content, theme or brand.
Fat Santa source code.
Looking for Fat Santa game source code / Actionscript 3.0 / .fla file ?
The source code for this game is also available to buy from Galaxy Graphics.
Click here to contact us about source code licensing.




Further Information :-
Flash Game Licensing FAQ - your questions answered