Swim Race: A Flash swimming game.

Sports games are easily adaptable for many promotional purposes, and this one has a giant branding opportunity right at the bottom of the pool - your logo and website address refracting through the water. Swim Race has uncomplicated gameplay - just like the "button masher" games of old, you hit left and right repeatedly to make your swimmer go faster, and use the down
arrow key to make a turn at the end of pool. This game takes place over two
lengths, but this can be changed easily to 4, 6, 8 or more.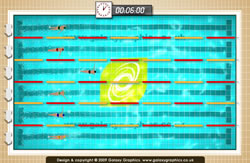 In addition to the bottom of pool branding, there are several other areas the game can be customised to fit your brand - such as the title screen, the swimwear colours and the margin around the pool.
Swim race also incorporates a built-in leaderboard, connected to a database with PHP. One script submits the score and the other retrieves the top 25 and sends them to Flash as XML. Swim Race then displays these on the leaderboard screen, along with trophies for the top 3 - gold, silver and bronze.
Swim Race is one of four Olympic event games by Galaxy Graphics, comprising the sports : Javelin, Long Jump, Hammer Throw and Swimming.
Swim Race source code.
Looking for the Swim Race source code in actionscript? The source code for this swimming game is also available to buy from Galaxy Graphics. Click here to contact us about Swim Race source code.




Further Information :-
Flash Game Licensing FAQ - your questions answered