Drift Racing Stage 1, 2 and 3 : Flash Driving Games.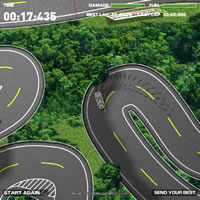 This series of three driving games reflect two popular motorsports: drift racing and rallying. Using the cursor keys, the player can control the car and slide it around a series of courses : Road, Snow and Desert. Each track has its own database- driven score table of fast lap times, encouraging previous winners to return to see if their score was bettered.
The game can be easily converted to include other cars or other vehicles, and other tracks. Branding opportunities exist on the introduction screen, car selection screen, the cars themselves and in-game trackside adverts. The game features some special details, including:-
Detailed recreations of popular drift racing and rally cars, such as the Nissan Silvia, Lancia Delta Integrale, Toyota Celica, Subaru Impreza and Lancia Stratos
Cars leaving skid marks on the track as they drift
Cars pass underneath trees and shadows as they lap the track
The game stores fastest lap of the session, and the previous lap
Collect fuel cans and spanners to replenish fuel and repair damage
The game is built upon a sophisticated driving game engine suitable for any type of game that involves moving a player around an environment collecting items. Galaxy Graphics also have another driving game built upon this engine, F-Sprint, a Formula 1 game with multiple cars on- track at the same time.
Driving Game source code
Looking for this driving game source code in actionscript? This is also available to buy from Galaxy Graphics. Click here to contact us about driving game source code.




Further Information :-
Flash Game Licensing FAQ - your questions answered