Speed Camera Killer 2 - A viral flash game
Now is your change to get revenge on those Gatso, Truvelo and Mobile speed camera vans - Drive along and blow them up by shooting from the front of your car... The controls are Left, Right, Up, Down and Space to fire. Play Speed Camera Killer 2. This game has now gained well over 5 million visitors since its release in 2004, and could do the same for your website too. Perfect for sites selling cars, auto parts or radar detectors and great for other sites too.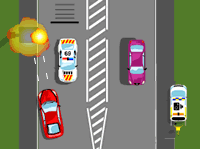 This game, like the others on this site, is available for licensing. If you are interested in having Speed Camera Killer 2 for your own site with your own logo and branding, you can increase your site's traffic dramatically by the power of viral email. Please contact us for more information on flash games.
Remember, any aspect of the game's graphics or gameplay can be customised to your wishes such as adding roadside signs with your logo or URL. Use the power of viral emails and word-of-mouth to gain more traffic for your site. People pass these games on and on and on..




Further Information :-
Flash Game Licensing FAQ - your questions answered