Caravan Toss flash game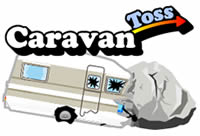 Caravan Toss simply involves firing a caravan out of a cannon, where the player selects the angle and power, and then tries to get the furthest distance possible.
Launched at the height of summer 2006, right in the middle of caravan season, Caravan toss recorded 10,000 visits in it's first day of release.. all spread by the internet word-of-mouth : viral emails. It has now become one of the most popular games produced by Galaxy Graphics. This game or one like it could do the same for your site too. Like many of the games created by Galaxy Graphics, Caravan Toss is available for licence, rebranding and customisation.




Caravan Toss source code.
Looking for Caravan Toss source code / Actionscript / .fla file ? The source code for this game is also available to buy from Galaxy Graphics. Click here to contact us about source code.

Further Information :-
Flash Game Licensing FAQ - your questions answered