Talivan Launch : Mobile speed camera destruction game.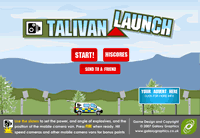 Drawing again on the ever (un)popular topic of Speed Cameras, Talivan Launch allows you to blow the mobile camera van into the air, trying to hit as many Gatso cameras as you can on the way down.
This game can be easily branded for your website, the game's backdrop even has a space for your own advert or website name on a board. Alternatively, the game could be totally re-skinned to suit an entirely different topic. The underlying mechanic of "Blow something up into the air and hit something else on the way back down" could be adapted for a variety of subjects. This game has received favouribe comments in the many forums where it quickly appeared after going live. Players have found this game to be good stress relief and it has been passed along many times. Contact us for more information about this game.



So what is a Talivan anyway?
A Talivan is a mobile speed camera van popularly used in the United Kingdom, containing one or more speed cameras."Talivan" is derived from "Taliban", the regime in Afghanistan frequently mentioned in the news over recent years in connection with terrorism. These speed camera vans are felt to be terrorising drivers in the UK and are therefore incredibly unpopular, hence the immediate popularity of this game.

Further Information :-
Flash Game Licensing FAQ - your questions answered