Delivery Time - A rebrandable Flash Christmas game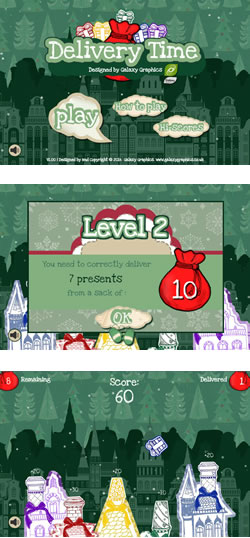 In Delivery Time you help Santa by deliveryin all the right presents to the right chimneys - shown to the player by differing colours. There's also a multi-coloured "any chimney" bonus present. The game has multiple levels each with it'sown delivery goals, and subsequent levels get more difficult by way of both speed and the chimneys being higher up the screen.
Delivery Time also incorporates an in-game high score display.
If you are interested in licensing this Delivery Time Christmas game for your own site, or a custom rebranded variation of it, please contact us for more information.

Remember, any part of the game's graphics or gameplay can be customised to promote your content, theme or brand.
Delivery Time source code.
Looking for Delivery Time game source code /
Actionscript 3.0 / .fla file ?

The source code for this game is available to buy from Galaxy Graphics.
Click here to contact us about source code licensing.




Further Information :-
Flash Game Licensing FAQ - your questions answered