"Fuel Tax Revolt" flash game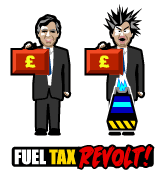 Aimed at the UK motorist market, with their ever-increasing fuel costs, this game give the player the opportunity to zap the man responsible..the then (2006) Chancellor of the Exchequer for Great Britain, Gordon Brown. The gameplay is like a modern version of Duck Shoot. Gordon pops up at various locations around a petrol station, and you have to fire and zap him with an electric tazer gun. Leave it too long and the price of the fuel goes up by 1p each time. Reach 99.9p and it's game over. This game is due for an update soon, due to a change of chancellor and the ever increasing cost of fuel, now well ovre 99.9p - a sign of the times.
Particularly suitable for license to websites offering car and motorist products, there are many way to brand this game with your website name and logo. Not only can the front page of the game be modified, but the branding of the petrol station can also be changed to fit your websites name and colour scheme.




Further Information :-
Flash Game Licensing FAQ - your questions answered