Flash - Weapons Inspector - A viral game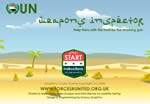 Developed in 2003, this game was designed to help promote the www.forcesreunited.org.uk website. In order to help spread the domain name around and attract more traffic, this topical game was created to co-incide with the UN Weapons inspection of Iraq. The object of the game is simply "inspect" the contents of the containers the cartoon men are carrying, avoiding the hazardous ones in order to "Help Hans in the hunt for the smoking gun". Extra points can be scored for shooting the bonus characters who randomly run across the screen.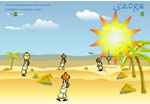 Viral games such as this can help promote your company name and website, drawing more traffic to your site. Please have a look at this game to see how we can help increase your site's visitors. Click here to play Weapons Inspector
This game received over 200,000 players during it's first month of release. Use the power of viral emails and word-of-mouth to gain more traffic for your site. People pass these games on and on and on..




Further Information :-
Flash Game Licensing FAQ - your questions answered